Rocky Mountain National Park is one of Colorado's most visited parks and offers several different activities and areas to explore. Take a minute to read through the information found below to gain a better orientation of the park and learn a few of its highlights.
Hours of Operation, and Fees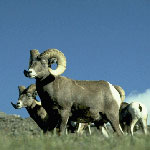 Rocky National Park is open 24 hours a day year round. Visitors can enter or exit at any time. If they are planning to stay overnight, park visitors must be in a designated campground site or a backcountry campsite reserved by a valid permit. From time to time, the Superintendent implements area closures to protect resources. When necessary, Park Rangers will issue court citations to persons violating the terms of a closure.
Seven Day Entrance Fee: $20 per vehicle
Annual Park Pass: A $40 pass that allows unlimited entry to Rocky Mountain National Park for a full 12 months from the date of purchase
Pedestrians, Bicycles Motorcycles and Mopeds: $10 per person, not to exceed $20 per vehicle
Commercial Tour Fee
A fee will be assessed commercial tour vehicles based on passenger capacity. This means the total seating capacity, not the actual number of people.
1-6 people - $25.00
7-15 - $75.00
16-25 - $100.00
26 & over - $200.00
Groups & Organizations Members of groups (church, school, recreation district groups, and organizations, not qualifying for educational fee waivers) are charged $10.00 per person over 16 years of age for entrance into Rocky Mountain National Park (no charge for the vehicle driver).
Hiking
Rocky Mountain National Park has 355 miles of hiking trails. They range from flat lakeside strolls to steep mountain peak climbs. If you are new to the park consult with rangers at the visitor centers and backcountry office. They can provide advice about trails which are appropriate to different fitness and experience levels.
As you plan your hike, keep in mind that park elevations range from 7,500 to over 12,000 feet. Even very fit individuals coming from lower elevations may experience altitude problems. Symptoms include headaches, shortness of breath, insomnia and rapid heartbeat. After a few days your body will have made some physiological adjustments to higher elevations, but full acclimation may take weeks. To minimize symptoms drink plenty of fluids, avoid alcohol, don't skip meals and get plenty of rest.
Although you may not feel thirsty, the "thinner" air at high elevations actually results in increased water evaporation from your lungs. Again, drinking extra water may prevent a bad headache or other altitude symptoms.
Camping
| | |
| --- | --- |
| here are five drive-in campgrounds and one drive-in group camping area in the park. Two campgrounds, Moraine Park and Glacier Basin, take reservations, as does the group-camping area. Other park campgrounds are first-come, first-served, and fill on most summer days. There are no electric, water or sewer hookups at any camp sites. | |
The water is turned off in the winter at all year-round campgrounds. Drinking water is available at entrance stations and open visitor centers.
Climate
The Continental Divide runs northwest to southeast through the center of the park atop the high peaks. This accounts for two distinct climate patterns - one arid on the east side near Estes Park and the other more precipitous in the Grand Lake area on the park's west side.
Some Other Things To Know
Pets
Pets are permitted in Rocky Mountain National Park, however they are not permitted on trails or in the backcountry. They are allowed only in areas accessed by vehicles, including roadsides, parking areas, picnic areas and campgrounds. They must be kept on a leash no longer than six feet and attended at all times. Pet etiquette dictates always cleaning up after your pet and disposing of waste in trash receptacles.