Think Outside…
Ridgway, is nestled in the picturesque Uncompaghgre Valley surrounded by the majestic snow-capped peaks of the Cimarron's and San Juan's, some of the most photographed mountains in the world. The town is located at the northern entrance of the San Juan Scenic and Historic Byway, one of America's most spectacular highways. With nearly 300 glorious days of sunshine, it is the perfect town to enjoy and explore a broad spectrum of outdoor adventures, year-round cultural and historic events as well as shopping and dining. Ridgway is a food mecca with farm to table restaurants to please every palate. We invite you to come and explore our beautiful area!

Stay/Eat
Lodging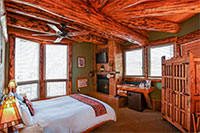 Welcome to a good night's sleep after a fantastic day exploring our beautiful mountains and eating in our amazing Restaurants.
Ridgway offers wonderful accommodations, from a standard hotel or Resort & Spa as well as unique vacation rentals. Our lodging facilities are proudly independently owned and provide special rates for weddings, gatherings, large groups and high and low travel seasons. Parking is readily available at each establishment, but we recommend that you keep the car there and enjoy our beautiful pedestrian-friendly town on foot. Our local lodgers also make planning your daily activities incredibly convenient with great recommendations on what's happening in town.
Dining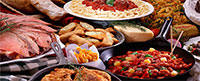 Ridgway has quietly been developing one of the region's hottest food scenes. This little town of 900 residents now offers a wide range of excellent dining options that includes, gourmet European cuisine, authentic ceviche, farm fresh creations, expertly made sushi, artisan pizza and ice cream, traditional Asian cuisines, "gnarly" tacos, unique bar and grills, specialty breakfast and sandwich spots, local micro-brews and more. Multiple award winning chefs and food innovators are helping to make Ridgway one of the Western Slope's up-and-coming foodie destinations. Many of our restaurants are sourcing local meats and vegetables and creating a burgeoning farm-to-table scene. While you are exploring Ouray County's great outdoors, we invite you to refuel at our many delicious destinations.
Things To Do
Outdoor Adventure. "Think Outside"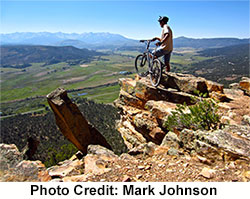 Valleys and open space with epic views of the Cimarron and San Juan ranges define Ridgway. Explore alluvial rivers, high mountain lakes, magnificent reservoirs, soothing natural hot springs, abundant trails and roaming wildlife. Ridgway is the ideal base camp for outdoor adventures; where spectacular outdoor activities await everyone! Biking and hiking can reach as far as the San Juan Mountains, the Mt. Sneffels and Cimarron Wilderness, the Uncompahgre National Forest, the surrounding BLM lands or just into Ridgway State Park. There are trails for all experience levels, ranging from easy shorter walks/rides to longer and more challenging terrain. Ridgway also boasts amazing proximity to six quality trout rivers and streams, as well as numerous lakes to get you fishing. If it's outdoors, it's here. Experience why Ridgway's slogan is Think Outside!
River Play - Raft, kayak, tube, stand up paddle board or just play in the river
Hot air ballooning – See the region in a new way
Fishing – Quality river fishing and high mountain lakes abound
Lake Fun – So many things to do! Swimming, stand up paddle boarding (SUP), windsurfing, sailing, water skiing and more
Biking – Mountain or road biking is waiting for all experience levels
Hike or Backpack - from town river trails to high mountain terrain
Camp – stay with Ridgway State Park, BLM and USFS sites
Scenic drives – Explore the San Juan Skyway
Play golf – with the San Juan Mountain Range as your backdrop
Hot springs – soak after a day of fun
Skateboard – drop into a bowl with a mountain view
Look for wildlife or birding – resident elk herds, mountain lion prides and nesting eagles
Horseback riding - high country
Elk hunting – Great units abound!
Cross country ski & snowshoe – Explore Top of the Pines and Cimarron Mountains
Photography – North, South, East or West pick a direction and find beauty
Ski and Snowboard – just a short drive to Telluride or Silverton
4X4 Fun – Jeep, ATV & dirt bike in the Cimarron's and the Sneffels Range
Arts & Culture
Arts and Culture
Ridgway has a rich, year-round cultural scene and our ongoing calendar of events is sure to stimulate your mind, touch your heart and excite your senses. In addition to a wide variety of art galleries in Ridgway, which is also a Colorado Designated Creative District, there are numerous art and craft shows, live performances, historic programs, concerts, and radio shows throughout the year. In the summer, you can catch festivals in our beautiful town park and intimate performances at small venues and businesses.
Attend a music performance at the Sherbino
Visit our Gallery's and Studios
Choir concerts at the 4 H center
Attend performances by Weehawken Creative Arts
Sculptures contests
Attend a poetry reading
Trivia nights at the Sherbino
Performing arts workshops
Arts and crafts fairs
San Juan Chamber Music Festival
Photography workshops
Music in the park series
Health & Wellness
Health & Wellness
Ridgway has been known far and wide to have a very diverse selection of health-related businesses. Ridgway boasts from state the art dental facilities, amazing massage therapists as well as many other types of alternative health practitioners. We also have a therapeutic Sulphur free hot springs to soak your weary bones as well as spa's and other relaxing opportunities after your outdoor adventure.
Soak at Orvis Hot Springs
Visit our many Spa's and Salon's
Therapeutic massage
Acupuncture treatment
Chiropractic
Visit a naturopath
History & Heritage
History & Heritage
Ridgway offers something for every history buff, from easy access to ghost towns, to scenic ranches and world-class museums. Prior to the mining era of the 1860s-1950s, Ouray County was Ute Indian Country. As mining grew, so did the ranching and railroad industries that supported it. Today, Ouray County celebrates its unique Western heritage with museums dedicated to mining, railroading, ranching and the Utes, as well as private collections and a beautiful historic fairground that hosts the annual Labor Day Ouray County Fair & Rodeo.
Eat at a Cowboy Cookout
Explore a Ghost Town
Go Mineral Hunting
Hike a Historic Mining Trail
Listen to Cowboy Poetry
Pan for Gold
Ride a Horse
Take a 4x4 Tour Along a Mine Road
Take the True Grit Walking Tour
Tour a Historic Mine
Visit an Arts & Crafts Festival
Visit a Blacksmith's Shop
Visit a Farmer's Market
Visit a Ranch History Museum
Watch a Rodeo
Events
Year-round
Historic Tours & Museums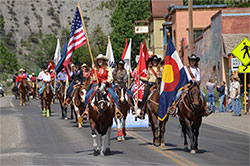 Live Music
Movie Nights
Visual & Performing Arts Workshops
Dance & Fitness Classes
Fly-fishing & Sport Demonstrations
Gallery Openings
Poetry Readings
Ridgway Moonwalks
Spring
Wine & Whiskers Benefit for Second Chance Humane Society
Love Your Valley Festival
Ridgway Area Trails Festival
Summer
Friday Ridgway Farmers' Market
Ridgway Concert in the Park Series
Ouray County Fork Fest
Ridgway State Park Environmental Lecture Series
Movie Nights at the State Park
Huck Finn Fishing Days
Trail Town 10-Miler
San Juan Huts 200 Mountain Bike Race
Ridgway Rendezvous Arts & Crafts Festival Ridgway River Festival
San Juan Chamber Music Festival
Mt. Sneffels Education Foundation Marathon & Half-Marathon Run/Walk
Fall
Friday Ridgway Farmers' Market
Ouray County 4-H Fair & Rodeo
Ouray County Railroad Days
Sneffels Fiber Festival
Ridgway Area Chamber Golf Scramble
Fall Photography Workshops
Halloween Haunted Houses & Balls
Winter
Santa Paws Fundraiser
Nonprofit Holiday Bazaar
Ridgway Noel Night
Ouray County Chorus Holiday Concert
Fly-tying Workshops
New Year's Eve Celebrations
Mountain Film Festival
San Juan Half Loop Backcountry Nordic Race