Jolt Your Journey
In the heart of America's beautiful Southwest, Farmington, New Mexico is surrounded by world class cultural treasures and magnificent landscapes.
Nestled in the picturesque San Juan River valley, within sight of Colorado's rugged San Juan Mountains and the desert highlands of Arizona and Utah, Farmington is a perfect place for enjoying unforgettable outdoor recreation and travel adventures!
Nearby Attractions
Aztec Ruins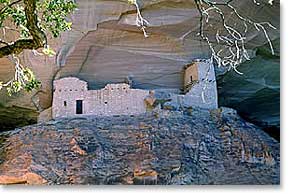 A 450-room pueblo ancestral to modern puebloan communities. First built in the early 1100s and used by people related to Chaco, it was later modified and used by people more akin to the Mesa Verde region. Reconstructed Great Kiva served as the center for community-wide events and ceremonies.
Canyon de Chelly National Monument
Canyon De Chelly National Monument (pronounced "d shay") offers a spectacular collection of sheer red sandstone cliffs forming a maze of canyons that all lead into the main Canyon De Chelly. Canyons sheltered the ancestral puebloan culture for centuries and served as an ancestral stronghold for the Navajos.
Chaco
The center of the Anasazi culture from AD 900-1100. Contains the largest excavated prehistoric ruins in North America.
Four Corners
The only point in the U.S. where four states meet. Features an Indian marketplace with hand worked arts and crafts. The Four Corners area is the traditional homeland to a number of Native American tribes, including the Navajo, Jicarilla Apache, Ute Mountain Ute, Southern Ute and Hopi nations.
Monument Valley
Enchanting earthscape displaying mesas, buttes and fragile pinnacles in Southeast Utah and Northwest Arizona. Visitor center, gift shop, restaurant, camping, self-guided tours, vehicle tours, horseback tours available.
Shiprock Pinnacle
Composed of igneous rock flanked by long upright walls of solidified lava, the rock is sacred to the Navajos who call it "Tse Bit'a'i'" -- rock with wings. Best viewing is west of Farmington on Hwy. 64 or south of Shiprock on Hwy. 491. Climbing is not permitted.
Sports and Recreation
Biking
Biking opportunities are abundant throughout San Juan County. The Road Apple Trail, a marked trail behind San Juan College, provides sandy washes and arroyos, hilly jumps, steep climbs and numerous side trails. Kinsey's Ridge, at the end of Foothills Drive, provides about 6 miles of rolling hills and a great view. Pinon Mesa, about 3 miles north of Main St. on Hwy. 170, is another popular route with distinctive trails. The trailhead is marked by a large cottonwood on the east side of the highway. The area around Farmington Lake offers a vast number of trails through all types of terrain and can be accessed off the Road Apple Trail.
Fishing

World-class trout fishing can be experienced on the San Juan River at the base of Navajo Dam. Catch and Release Waters is 3.75 miles downstream from Navajo Dam; all trout caught must be immediately returned to the water. The Quality Waters consist of a 3.5-mile section teeming with rainbow, brown and cutthroat trout. This Special Catch section is posted with a daily bag and possession limit of one trout 20" or more. Year-round fishing exists in 12 additional miles of open water. Navajo Lake has 150 miles of shoreline, holding trout, kokanee salmon and warm water species. Three full-service marinas are available. Jackson Lake off the La Plata Hwy., has excellent trout fishing year-round. La Plata River has good brown trout fishing each spring.
Hiking
In the areas near Farmington, hikers can find various kinds of terrain, from the Bisti/De-na-zin Wilderness, a federally protected area with strange geologic formations, petrified logs and fossils, to the backcountry trails of Chaco Culture National Historical Park or Angel Peak, a 40-million-year-old geologic formation where trails wind around the desert floor below the overlook. Farmington's River Corridor has over 5 miles of interconnecting walking paths along the Animas River.
Water Sports
Forty-five miles east of Farmington on NM 511 is Navajo Lake State Park , which offers 150 miles of shoreline. Boating and water skiing are popular here, and the lake provides good fishing for trout, salmon, bass, northern pike, catfish, and crappie. Two concessionaire-operated marinas offer boat slips, fishing and boating supplies, and house boat and ski boat rentals.
Request Free Visitor Guide