Come on over!
You'll want to discover all of Our Side. Delta County features playgrounds from 4, 000 ft to 11,000 ft. and all the fun stuff in between. Small country farms, orchards burgeoning with fruit, wienmakers busy at their craft and chefs stirring it up. This is Delta County Colorado, not a spot well known by very many. However, this little part of western Colorado is starting to make an impression on the food and wine scene. Come for a visit.

Farms and Ranches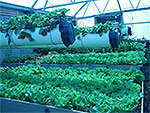 Delta County is proud to have award winning and nationally recognized Farmstays. If you want to just wake up on a farm to the sweet aroma's of fresh cut fields and farm fresh eggs cooking, then you can get that here. If you want to spend some time and learn about soil health and muck out a barn, you can get that too.
You can take classes in everything from cheesemaking to felting, beekeeping to biodynamic farming.
This popular activity of experiencing life on a farm is not just some foolish romance from our past, but is rooted in the desire to take our lives out of the office chair and put them into dirt - yes, dirt! Getting our hands dirty and smelling the richness of the soil on our hands is wonderful. Doing work alongside a farmer as she gathers the eggs, or he gathers the cattle is rewarding. It's not for everyone, but if it's for you here are a few places in Delta County that you should know about:
The Living Farm Inn and Cafe offers tours of their family farm, classes in farming and great food. Here you will get the authentic life on a farm with all of the chores and fun mixed in. You will see first hand how crops are harvested, washed, prepared and delivered to your plate. Now that's fresh.
Mesa Winds Farm and Winery offers tours of the farm that include the Babydoll Sheep, vineyards, orchards and winery. Wine tasting is available and you stay in remodeled pickers quarters.
Smith Fork Ranch is the luxury end of the Farmstay. Located in Crawford, surrounded by cattle country, this ranch features horseback riding, fishing, hiking and sumptuous meals prepared by the chef with the produce from the ranch gardens. They source local meats, cheese, wines and make their own charcuterie. The hospitality here is the tops and sincere. Once you've stayed you will feel like family.
Wine Country Out West
Grape harvests in Delta County occur between Mid-August to Mid October with most of the harvests occurring in September. Harvest is followed immediately by the crush. Many wineries will allow you to come and observe. Don't expect to see women stomping grapes in big barrels as in the popular scene from an "I Love Lucy" episode, but you will be able to observe this unique part of the winemaking business. Call your favorite winery to see when would be a good time watch or even join in!
Delta County Wineries & Tasting Rooms
5680
AppleShed Art Complex Tasting Rooms
Alfred Eames Cellars
Azura Cellars
Black Bridge Winery
Blossomwood Cidery
Delicious Orchards Organic Tasting Room & North Fork Cellars
Fire Mountain Winery
Jack Rabbit Hill
Leroux Creek Vineyards
Mesa Winds Farm and Winery
North Fork Cellars - Hard Cider
Red Mountain Ranches Tasting Room
Snow Capped Hard Cider
S. Rhodes Vineyards
Stone Cottage Cellars
Stoney Mesa Winery
Terror Creek Winery
Williams Cellars Winery