Trinidad Loves Company
Halfway between Denver and Santa Fe, Trinidad is tucked against the southernmost Rocky Mountains and well beyond the traffic crush associated with the front range. When visitors exit the highway, they find a historic town centered in an area of scenic and historic byways. All roads lead to rejuvenation in the area surrounding Trinidad.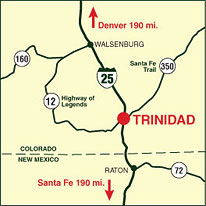 In Trinidad, visitors see every stage of the layered western saga of economic booms. Grand early architecture in the National Historic District houses cozy boutiques, sidewalk cafés, art galleries, outstanding museums, and theatre. Winding brick streets reflect the hurried, hodgepodge settlement of the West's early mining towns. Mansions along broad, tree-lined avenues announce the success of early railroad magnates and cattle barons.
Trinidad is outdoors-happy with a riverwalk, world-class skatepark, frisbee golf & bocce ball, aquatic center, pond and river fishing, a jetted fountain that is a favorite with kids in summer, and lots of parks that invite both leisure and activity. The town's historic golf course is in a wooded area overlooking the town with grand views of the Sangre de Cristos. Avid Golfer dubbed it "one of ten hidden gems in the country."
Modern-day Trinidad is a town for the arts. Trinidadians and their company enjoy frequent musical events, year-round theatre, an independent film festival, and frequently changing exhibitions in the visual arts. Locals and visitors enjoy First Friday photography openings at the Trinidad photography gallery. A kinetic gallery of visual whimsy, Trinidad's ArtoCade celebrates over a three-day weekend with artcar parades, "vehiculart" gallery shows, and some judicious honking. This September event is pure, wacky fun.
Historic & Prehistoric Sites
Long before early occupants settled in the red-rock canyons to the east, long-necked suaropods, commonly referred to as "brontosaurs," and the short-legged carnivorous theropod Allosaurus created the longest dinosaur tracksite now known in North America. This prehistoric site lies northeast of Trinidad.

The area east of Trinidad is laced with red rock canyons, where early settlers left many petroglyphs. Check out Canyon Journeys, which offers tours of rock art created by early Plains Indians as well as evening scenic tours to watch for wildlife.

Bent's Old Fort was one of the significant fur trading centers on the Santa Fe Trail. Faithfully reconstructed in 1976, this huge fort's rooms are outfitted as in the early to mid-1880s, when the fort served as supply depot, wagon-repair shop, council space for Native Amricans, and the center of news and hospitality for all comers. Bent's Fort is located northeast of Trinidad.

The courage and resilience of miners in the Trinidad area changed labor history forever. Famous activist Mother Jones was arrested in Trinidad for supporting the miners in their strike for fair working conditions. The Ludlow Memorial, north of Trinidad, honors those who died in the 1914 Ludlow Massacre.

Sixty-five million years ago, a spectacular event occurred over what is now the Yucatan Peninsula of Mexico. An asteroid or comet about the size of Denver slammed into the earth. The surface of the earth was changed in an instant. Nearly half of all earth's life forms perished. Mammals took the place of the dinosaurs, marking the boundary between the Cretaceous and Tertiary Epochs. One of the best and most accessible sites in the world to view what is called the K/T boundary, marking the demise of the dinosaurs, lies in Trinidad Lake State Park. This 2700-acre park with excellent fishing is a few minutes west of Trinidad on the Scenic Highway of Legends.

Many Colorado mining camps have vanished or are in ruins. Cokedale, known in 1907 as a model camp, remains much as it was then. Visit Trinidad's Colorado State Welcome Center for the Cokedale brochure before visiting the town and the coke ovens across the road. Cokedale is 12 miles west of Trinidad off the Scenic Highway of Legends.
Heritage travelers can visit history without leaving the town:

The Bloom Mansion is one of four landmark buildings at the Trinidad History Museum. The buildings are surrounded by lovely heritage gardens where visitors can soak up the sun, rest in the shade, or play croquet.

The beautiful A.R. Mitchell Museum showcases over 350 original paintings by acclaimed western artist and illustrator Arthur Roy Mitchell and his contemporaries, as well as an extraordinary collection of Spanish colonial folk art.

The free Louden-Henritze Archaeology Museum features artifacts and information on the geology and prehistory of the region. Kids like the dinosaur display.
Recreation & Scenic Road Trips
Blue & Bear Lakes is a cozy "nature neighborhood" for campers and daytrippers. The region has easy hiking & biking trails that wind through forests and meadows scattered with wildflowers and butterflies.

Visitors appreciate the modern amenities at Trinidad Lake State Park, a 2700-acre playground with an 800-acre lake. One of Colorado's "hot spots" for fishing, the lake also accommodates water skiing, kayaking, canoeing, and motorized boating. Hiking and biking trails, geocaching, interactive nature classes for kids, and weekend entertainment in the park's amphitheater make this park an extremely popular destination for families.
The Scenic Highway of Legends takes only two hours if you don't get out of the car, but you will want to. You can spend days exploring sideroads, mountain villages, and recreation areas with many lakes. In this region, spectacular dikes radiate like spokes of a wheel from the ancient Spanish Peaks. Nowhere else are these geologic phenomena found in such patterns or abundance. Fall on the Highway of Legends is a vivid tapestry of reds and golds.

The Spanish Peaks, called by Native Americans Wahatoya, or "breasts of the earth," watch over an area boundless in opportunities for a wilderness experience. Visitors come here for hiking, biking, and horseback trails with awe-inspiring vistas and abundant wildlife.

Monument Lake Resort's WPA ambience is ideal for those who want a peaceful getaway with both simplicity and full services for special events. The resort serves both lodgers and daytrippers.

Some wilderness areas such as Apishapa are not often visited, which is good news for those seeking wildlife. In these 7,935 acres of rolling to level shortgrass prairie with piñon-juniper, birders find an "undiscovered jewel," according to coloradobirding.com. Bighorn sheep, antelope, mule deer, bobcats, rabbit, turkey, and coyotes also live here.
Request Free Visitor Guide