Chaffee County, Colorado, is located in Central Colorado, the Heart of the Rockies. It stars the small towns of Buena Vista, Salida, Poncha Springs as well as Monarch Mountain. Chaffee County is the perfect place to take advantage of Colorado's abundant natural beauty. The Arkansas River flows through the heart of Chaffee County, gracing the downtowns of both Salida and Buena Vista with her beauty and world-renowned whitewater, fly-fishing, scenery and river festivals. The Sawatch Range creates the western border of Chaffee County and abounds with hiking, mountain biking, snowmobile and OHV trails. Twelve of the state's 14er's make their home here and give way to a myriad of outdoor activity and provide a backdrop that is unparallel in Colorado. Year-around visitors in this "banana belt" can enjoy distinctive restaurants, unique shops, incredible art galleries and a large selection of antique shops in the historic towns of Salida and Buena Vista. Lodging options range for motels to rustic inns, bed and breakfasts, hostels, beautiful campsites to guest ranches.
Outdoor Recreation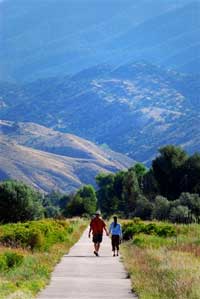 Folks drawn here enjoy the welcome contrasts to the state's more glamorous destination resorts. Fun, Friendly and Afforable are the hallmarks of Chaffee County. Salida was called a "Haven" by the New York Times and also picked as one of the top ten "Best Small Towns" by Outside Magazine.
In spring, summer, fall and winter, Chaffee County is a mecca for the outdoor enthusiast. Visitors can choose from recreational activities such as hiking, biking, OHVing, kayaking, whitewater rafting, flyfishing, camping, horseback riding, ziplining, swimming, tennis and golfing.
For more information, check out www.NowThisIsColorado.com.
Winter Activities
Winter sports fans can enjoy skiing and snowboarding at Monarch Mountain, snowmobiling, cross-country skiing, snowshoeing and ice fishing. Unspoiled since 1939, Monarch Mountain annually boast more than 350 inches of 100 percent all-natural powder. Family-oriented prices from lift tickets to food and beverage and rentals make Monarch Mountain one of the most affordable ski resorts in the state. A ridiculously short walk from the free parking lot to short or nonexistent lift lines means more time on Monarch's uncrowded slopes. At Monarch you'll lose the crowds, not your friends.
Getting Here
This area is the crossroads of three major highways: US 24, 50 and 285. Chaffee County is an under three hour drive from Denver via I-70 to US 285 through Leadville or via US 285 through Fairplay. Colorado Springs is just over two hours via US 50 through Canon City or via US 24 and US 285 into Buena Vista.
Request Free Visitor Guide