Contact Info
South of New Castle
County Road 314
New Castle, CO 81647
Phone:

970-984-2068
Basics
Activities:

Sightseeing Tours,
Horseback Riding
Description
Escape to breathtaking vistas and peaceful tranquility of a true working ranch in this secluded valley, a throwback to the Colorado of yesterday.
There are any number of ways to enjoy time at the ranch – wildlife tours, horseback rides, and fishing trips.
Vistas never before photographed. Wildlife never before watched. Trout never before fished. Be among the first to enjoy the peaceful tranquility of the Porter Ranch - opening its doors to the public for the first time, May 2007.
ENJOY BEAUTIFUL, PEACEFUL SCENERY, SMALL GROUPS, AND FLEXIBLE RIDE TIMES!
Wildlife Tours
Sit back in the van and relax while you visit working cattle and hay operations, sweeping vistas, and abundant wildlife!
Horseback Rides
Enjoy quiet trails, beautiful views, and the company of a well loved horse - your new four legged friend.
Fishing Trips
We have partnered with top local fly shops to offer you exclusive float trips on the 12 acre Porter Reservoir!
All trips guided by friendly, knowledgeable staff.
All trips rendezvous at Porter schoolhouse.
Light snack and beverage provided for all trips.
Don't Just Horseback Ride - Learn about horses!
Intro to horsemanship experiences now offered at porter ranch. Spend 1 hour learning about horses - Grooming, daily care, riding basics. Then ride for 2 HOURS!! This three hour experience is just $75 per person. Bring home memories AND knowledge.
OFFERING EARLY SEASON DISCOUNTS
50% OFF FOR ALL MILITARY AND THEIR FAMILY!!!
Now offering
EVENING HORSEBACK RIDES!!!!
Join our 5pm 2 hour ride for just $50!
A savings of $10 per person!!!
Don't see what you'd like? Give us a call to customize your ranch getaway!
Details
Activity Type:
Sightseeing Tours
Horseback Riding

GIVE THE GIFT OF HORSES!
$5 OFF HORSEBACK RIDES!
$5 off any horseback ride when booked at least one week in advance!
FREE HORSEBACK RIDES!
Free horseback ride with the purchase of four paid rides of the same length. Reservation must be made at least one week in advance.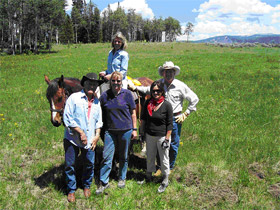 Contact Someday Outfitters at Porter Ranch (970)984-2068
www.porterranch.net

This promotion brought to you by Go-Colorado.com.
Map + Directions