Your Basecamp to Adventure!
Southwest Colorado's towns of Cortez, Dolores, Mancos and Towaoc embrace the archaeological center of America, anchored by world-renowned Mesa Verde National Park. Just a short drive from the Four Corners Monument, Arches, and Monument Valley, Mesa Verde Country is centrally located on two National Scenic Byways — The San Juan Skyway and Trail of the Ancients. Whether your passion is exploring the past, enjoying spectacular wide open vistas, or hiking rugged canyon or mountain trails, you're guaranteed the vacation of a lifetime in Mesa Verde Country.
Recreation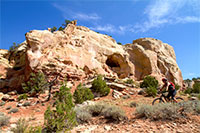 Hiking, biking, fishing, boating, rafting, golf, horseback riding, hunting, skiing, and snowmobiling are just some of the popular sports in Mesa Verde Country. With our incredible climate, many recreational activities are available year round, and our location makes it possible to cross country ski in the mountains on a winter's morning, and hike in our warm red-rock canyons on a winter's afternoon.
Mesa Verde National Park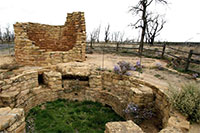 Mesa Verde is a World Cultural Heritage Park, a designation granted by UNESCO to preserve and protect the cultural and national heritage of certain international sites. Mesa Verde has also been selected the #1 historic monument in the world by readers of Condé Nast Traveler, and was chosen by National Geographic Traveler as one of the "50 places of a Lifetime--The World's Greatest Destinations."
Events
Click on the link below for events in Mesa Verde Country.
Request Free Visitor Guide